Colossal Red King Crab Legs🔥Buy 2 LBs Fresh ALASKA King Crab Legs, Get 2 LBs FREE🔥

























When you order the largest and most impressive of all crabs caught in the world, Alaska King Crab, you'll taste the unmatched flavor, quality, and texture. It's the most sought-after of the three Alaskan Crab species and popular with people who love seafood.
Perfect for your next dinner party, family dinner, or meal with friends. Your order may contain both Alaskan King Crab claws, legs and some pieces which make for delicious appetizers or a stunning entrée that everyone will enjoy.
Did we mention King Crab meat is naturally lean, low in calories and bursting with one of a kind flavor?
Give your guests something to talk about.
*Size specs are estimates only
Specifications

King crabs are extremely versatile. Since they come pre-cooked, they're ready to eat as is, or can be prepared in a variety of different ways. To warm, just steam, sauté, broil, grill or roast for 4 minutes to heat through. Serve with drawn butter or dipping sauces.Cooking instructions
KING CRAB LEG SIZING EXPLAINED
King crab legs are sized according to the number of crab legs in a ten-pound package. Legs labeled '6/9', for example, are large and it only takes 6 to 9 legs to make up a 10 lb box. A 20 lb box of '6/9' legs would have 12 to 18 legs and a 30 lb box would contain 18 to 27 legs. It is typical to see King crab leg sizes described with names like "Gargantuan" and "Super-Jumbo" but there is no industry standard for these names.
FROM SEA TO SHORE TO YOU
If you watch The Deadliest Catch on TV, you might already know a thing or two about harvesting King crab. As you may have seen on the show, the harvest takes place each fall during a very quick season which can be as short as 4-5 days in length. Commercial fishing boats capable of withstanding the harsh conditions of the Bering Sea are used to drop and haul back up steel and mesh traps called "pots". The boats are fitted with hydraulic systems used to lift these pots which can weigh close to 1,000 lbs when full. Once retrieved, the crab is sorted to ensure only adult, regulation-sized crab are placed in the holding tanks on board. Smaller crab are returned to their habitat in order to mate and grow.
King crab is delivered to shore live where it is cooked, cleaned, sectioned and frozen. The freezing process creates a protective glaze that ensures King crab retains its wild-caught flavor during shipping. To guarantee the best taste experience and food safety, keep frozen until ready to thaw and use. Do not thaw and refreeze.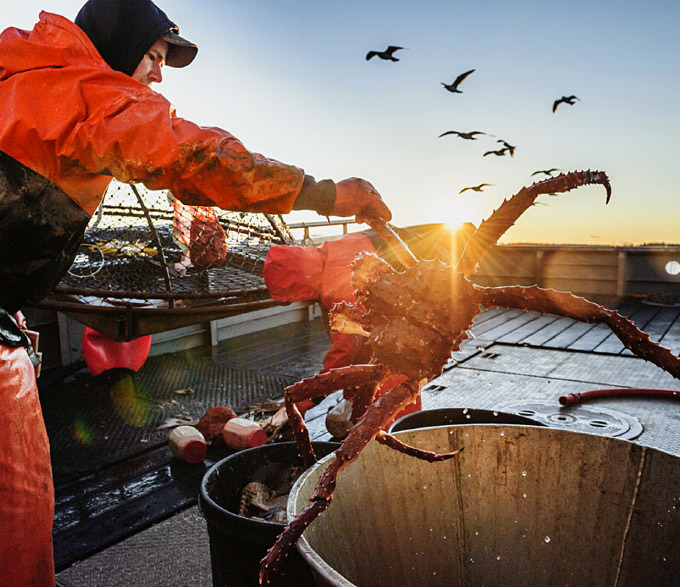 STEWARDSHIP AND SUSTAINABILITY
According to Fishwatch, "U.S. wild-caught Alaska Red King Crab is a smart seafood choice because it is sustainably managed and responsibly harvested under U.S. regulations." FishChoice concurs, giving Red King Crab from Alaska a "Best Choice" sustainability rating. Alaska Red King Crab is harvested off of the coast of Alaska in the Bering Sea under the management of NOAA Fisheries, theNorth Pacific Fishery Management Council, and the Alaska Department of Fish and Game in order to ensure sustainability for future generations. Only male crabs of a certain size are harvested, allowing the females to reproduce and replace the ones that were harvested. Economic sustainability is also addressed in the Alaska Red King Crab fishery through the Community Development Quota Program which opens participation and investment to eligible coastal communities by allowing them ten percent of the harvest.

HARVESTED FROM ICY WATERS
Red King crab thrive in extremely cold environments where they prefer the sandy, muddy ocean floor along the continental shelf. Typically found in shallow coastal waters in depths of less than 200 feet, Red King crab will migrate and travel to deeper waters in search of food. In Alaska, Red King crab harvest is currently centered on the Bering Sea with carefully managed fisheries in Bristol Bay and Norton Sound. Red King crab can also be found off the frigid northern coasts of Russia and Norway in the Barents Sea.